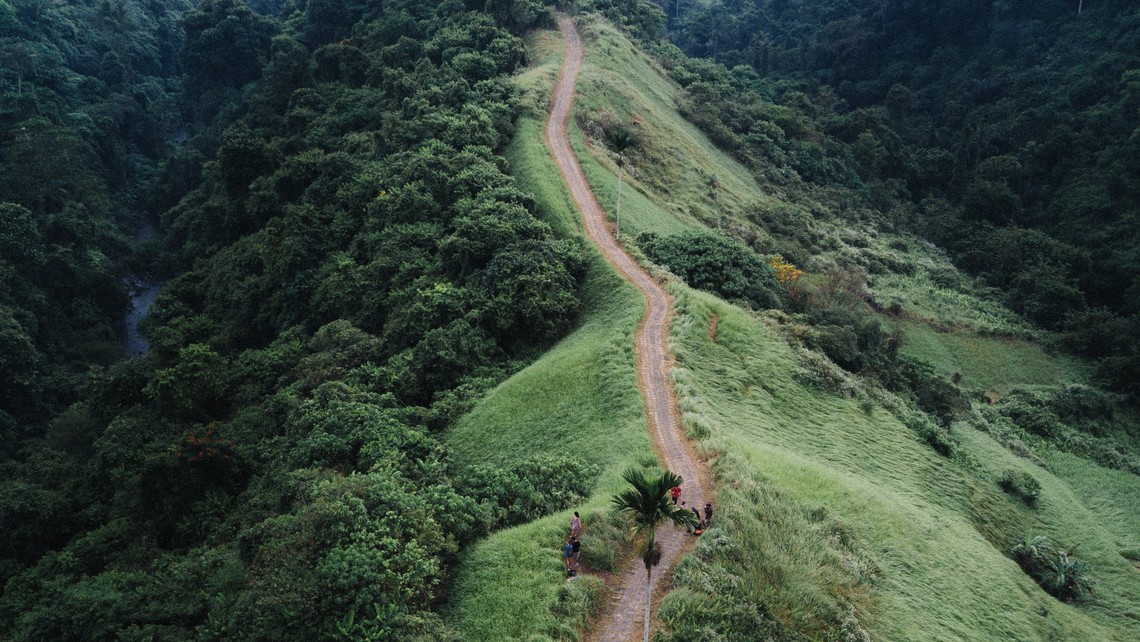 As a part of my work with Desert Stream Ministries (an organization I serve along with the therapy I do), I travel internationally to help facilitate trainings for leaders and members of the church who are seeking healing in areas of sexual and relational brokenness. A few days ago, I got back from Thailand, and some of my experience while there reminded me of the value of our weakness – and the ways we grow in moments our weaknesses are more exposed!
For most of us, entering counseling includes submitting our weaknesses before another human (oftentimes, in fact, a stranger!). It can feel scary, vulnerable, and overwhelming to do so. But in the end, the ground of our weakness is the very rich soil that grows new life in ways we may not have previously dreamed of or expected.
Early in the week during my time in Thailand, after nearly 30 hours of travel (and resulting jetlag!), my colleague and the leader of this training cautioned our team: be aware of the fact that "in your weariness, it is easy to become indiscriminate."
Translation: when you are weary, your abilities to think before acting, filter before speaking, and understand before defending are all tested! Old internal struggles call me, petty things offend me, wounds become target for others' insensitivity. In that place, it is easier to haphazardly respond to all of these things—not operating with discernment or wisdom, but with reactivity and negative emotional patterns.
Weariness, very often, reminds us of our areas of weakness. Lack of sleep, the physical challenges of travel, and the entry into new and unfamiliar places all compound particular "soft spots" or vulnerabilities we may have. Though I do a fair amount of travel, I know that for me Asian jetlag is the most difficult to overcome, so my colleague's exhortation was a good reminder that none of us were at our peak physically.
Very likely, there would be times in the week where we just wouldn't feel good, and that weakness could make us vulnerable in other areas—thoughts, feelings, and behaviors, etc. It was a good reminder that the feelings that may surface while certainly valid in and of themselves, may not be an accurate indicator of my world. In my own healing journey, I know that my tendencies lean towards being a "feeler," over analyzer, or acting out of being overly introspective (in negative ways). In weariness and stress (or being things like hungry, angry, or lonely!) these areas can show up in being too sensitive to others' responses to me, in getting bogged down by critical analysis of myself, or in wanting to numb/ escape. So I knew enough to recognize that as things reared their head, I would have the opportunity to grow—and even extend grace to myself—or go back under old cycles.
During my time in Thailand I was reminded of a few things that helped in managing my weakness, which I'll share with you here:
1.Don't take myself so seriously:
Early in the week I felt a trigger/ pull of old emotional bonding patterns. I didn't act out of it, or even feel the temptation to bond unhealthily, but I did have a moment of decision. Would I come under the fear that there was still something inherently wrong with me (that I could be pulled towards old patterns of dysfunctional relating)? Or, could I honor the fact that I had grown enough to see the pattern clearly, and choose not to come under it, and just move forward in health, not assuming that I needed to go through 5 years of counseling for that momentary pull.
I chose the latter and found that the initial pull dissipated quickly! Choosing to not get bogged down in it freed me to see myself with grace, not judging myself and going through layers of analysis but instead just saying, "you're human, you're in process, make a good choice and move on!"
2.Learn to communicate my needs but choose to lighten my load by releasing momentary offenses:
When we are with people in new places, outside of our normal routines, etc., we are bound to experience some "pinches" interpersonally. It is easy to be offended and tempting to make mountains out of molehills, as the cliché goes. For some of us who didn't have a voice growing up, but who have learned how to have a voice, it is tempting to think that we have to address all these areas where we are offended, or where others' are wounding or insensitive towards us.
For me during the week there were a few moments it was tempting to think "I need to have a conversation with this person! I need to tell them that they hurt me and I want them to know the ways their behavior injured my heart!"
But with some processing I was able to see that my weariness was making me a little more sensitive than I normally am. And while I wanted to be understood and have my own needs validated, there was also an opportunity to see the other person's true heart and release them from their offenses towards me. Instead of needing to defend myself or prove my point, the better choice in this moment was to internalize Proverbs 19:11…that wisdom and insight give us patience and it is our glory to overlook an offense!
In the end, it was relieving that I didn't have to create more drama, and although I could validate that my own needs were legitimate, I could also release offenses, trusting the hearts of the ones who injured me, forgiving and releasing them and moving forward from offense.
3.Be aware of emotional struggles manifesting physically.
At one point I began to feel some slight battle with physical symptoms like nausea and slight fever. I wondered if it might be food poisoning, but the symptoms were not so severe to warrant the diagnosis.
I woke up after one night's sleep still not feeling good, but surprisingly, I also felt some internal resilience to battle instead of surrender to the symptoms I was experiences. As I went through the day I didn't feel entirely better, but I did feel a lessening of these symptoms. My choice to "battle" instead of "yield" brought forth a breakthrough that enabled me to endure instead of faint!
The reminder for me here was that not all physical symptoms are physical! Certainly, had it been the flu or food poisoning I would have just been down for the count. But in my case, the weariness of body and soul that comes in an intense training time were trying to show up physically. When we are genuinely sick of course we attend to our bodies. But, when emotional and spiritual battles are manifesting physically, we can choose to reach forward and not lose ground we might otherwise be able to take (but can't if we just give up and check out).
4.Confess / speak out anything that would hinder me.
"We are as sick as our secrets," the saying goes. For years I have known and experienced what the Psalmist says in Psalm 32:3-4, that "when I refused to confess my sin, my body wasted away, and I groaned all day long…"
In these trainings, we are offering freedom to others who are brokenhearted and struggling under the weight of their own wrongdoings…and also things done wrongly to them. We are continually offering them the hope of freedom and purity in these areas of their lives.
But we can only offer what we have dealt with ourselves. Sins, both significant and petty, will hinder us in offering the best gift to others. Thankfully, my own walk of regular confession means that I can quickly confess areas where I struggle or sin. But at a point during the week an old sin came to me and I felt slimed by the memory. I physically felt a weakness in my body as I thought back to the moment.
As I considered my options, I knew that I could either try to push down the memory, or just confess it again in the presence of another person. I had already confessed it to one person, but it needed to be done again and more directly.
When I did this, I found an immediate freedom. It is amazing how sharing things with others and receiving forgiveness frees us from the weight of our baggage. When we are feeling weak, these areas haunt us all the more. How much better to not allow the weight of our own brokenness to haunt us, but to expose it and enjoy the lifting from the weight. Exposing these areas, I believe, frees us from making the same or worse mistakes in our lives. Find someone in your life that you can confess to!
Throughout our healing journey, whether at the beginning or anytime throughout, our growth can be both tested and refined in the moments we are weak. In my own walk, I have gained the perspective that wholeness is hardly about being perfect or having fully arrived in this life. Instead, wholeness is determined by how well we "manage" our weaknesses. That is, when we become aware of our weaknesses, can we journey with and through them with grace and the ability to learn, instead of in striving or expectation of perfection.
We at Center for Healing are so aware of the need for people to have space to admit their weaknesses in the context of connections with others. We don't view ourselves as perfect or having arrived in every area of our lives, but we do consider it a privilege to journey with others as they share and walk through weakness. Thanks for the honor that many of you give us in sharing yourselves in this way. We are all the better for it!
Peace,
Abbey Foard MA, LPC, NCC